soak up the sun in style and enjoy the best of curaçao
Situated within walking distance of Jan Thiel Bay, you are assured of a wonderful holiday during your stay at Villa Wayaka. At the frontend of this exquisitely-designed, white villa are two pool decks, each with its own MagnaPool from where you have a breathtaking view of the Caribbean Sea. The interior and exterior decór is the perfect blend of style and tropical Curaçao.
Both MagnaPools are equipped with a whirlpool function for effervescent bubbles and relaxing massage flows. The built-in pool lighting shines every evening and creates an extra special ambiance. The bedrooms have comfortable outdoor seating areas at the rear of the villa where you can relax. The apartment downstairs is adjacent to the tropical garden. In addition to the spacious living areas which are fitted with luxury cooking islands, the villa also has a separate fitness room.
Villa Wayaka has 3 comfortable lounge areas each with smart TVs, 8 bedrooms fitted with air-conditioning and walk-in closets, and 7 bathrooms. There is ample opportunity to wash, dry and iron your clothes. There is a good wifi connection throughout the villa, including in the fitness room downstairs. An ideal stay for (combined) families up to 18 people.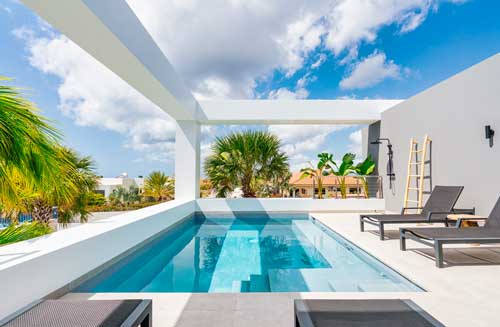 This villa has 2 swimming pools, 1 of which is an infinity MagnaPool. Both pools are beautifully lit at night. Lounge chairs and an outdoor shower can be found on each pool deck. You can be assured of optimal privacy, and during the day, you can always find a comfortable place to relax in the shade.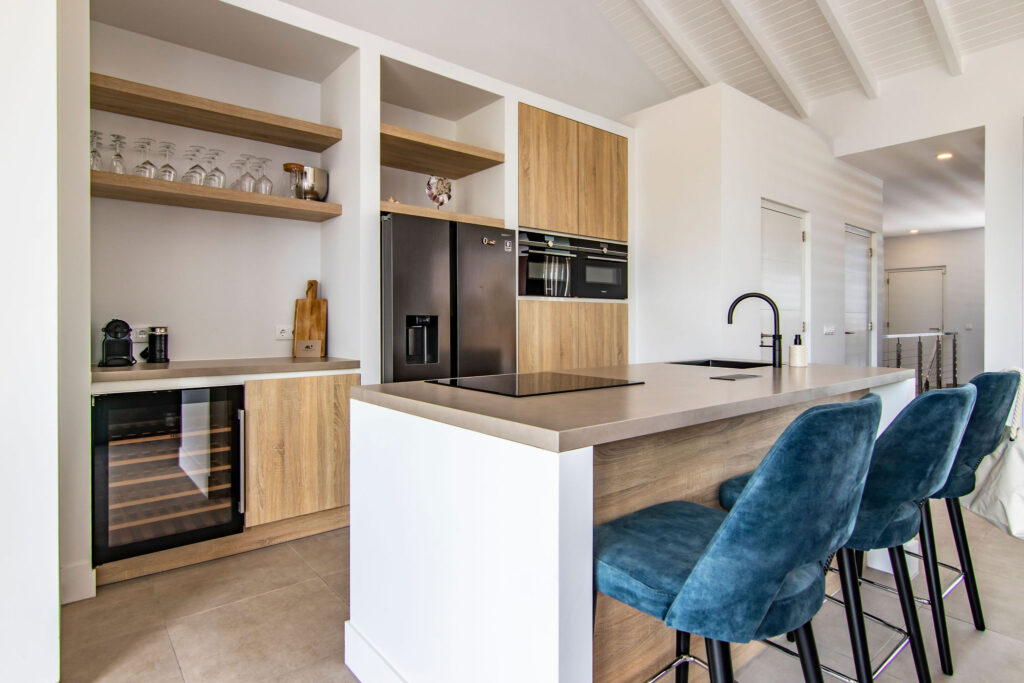 There's plenty of room to cook to your heart's content and you can choose to dine inside or outside! This villa is equipped with luxury cooking islands and comfortable bar stools, American fridges with ice dispensers, Nespresso coffee machines and combi microwaves, and the barbecue is ready to fire up outside.
It's an absolute delight to cook at the luxurious kitchen island. Each cooking island is equipped with an induction hob, Quooker, an American fridge with ice dispensers and a combination microwave. You can also enjoy a meal at the large dining table.
or book a part of the villa below
penthouse 1 in wayaka villa
Characteristic of this penthouse on the left side of the villa is the infinity MagnaPool. From here you have a beautiful view over Jan Thiel Bay.
penthouse 2 in villa wayaka
Just like the penthouse on the left, this penthouse is also fully equipped. You can access this penthouse via your own separate entrance. You have a beautiful view of the Caribbean Sea from the pool deck and the MagnaPool.
apartment in villa wayaka
This spacious apartment on the ground floor of Wayaka Villa is situated in a prime location near the popular Jan Thiel Bay. This apartment has its own entrance, a luxurious living room with pantry, and it borders the beautiful tropical garden.
all facilities in villa wayaka