relax, unwind and enjoy the best of curacao in luxurious style
Villa Alöe is a luxurious, fully-equipped, sea view villa that is sure to guarantee a fantastic holiday. The interior and exterior decor are the perfect blend of style, modern comforts and tropical Curacao. Enjoy the sunset from your infinity magna pool or relax on one of the comfortable lounge beds. How about a drink at your own palapa bar in the water? Villa Alöe also has its own air-conditioned fitness room, making it the perfect space for the whole family.
You can access the outdoor areas through the sliding doors and stairs where the magna pools and tropical garden are located. Each pool deck has an outdoor shower and toilet for your convenience. Why not fire up the barbecue while you take in the stunning sea view? The largest magna pool is also equipped with a jetstream system; fun for the children and ideal to keep fit. The built-in pool lighting creates a fairytale ambiance in the evenings.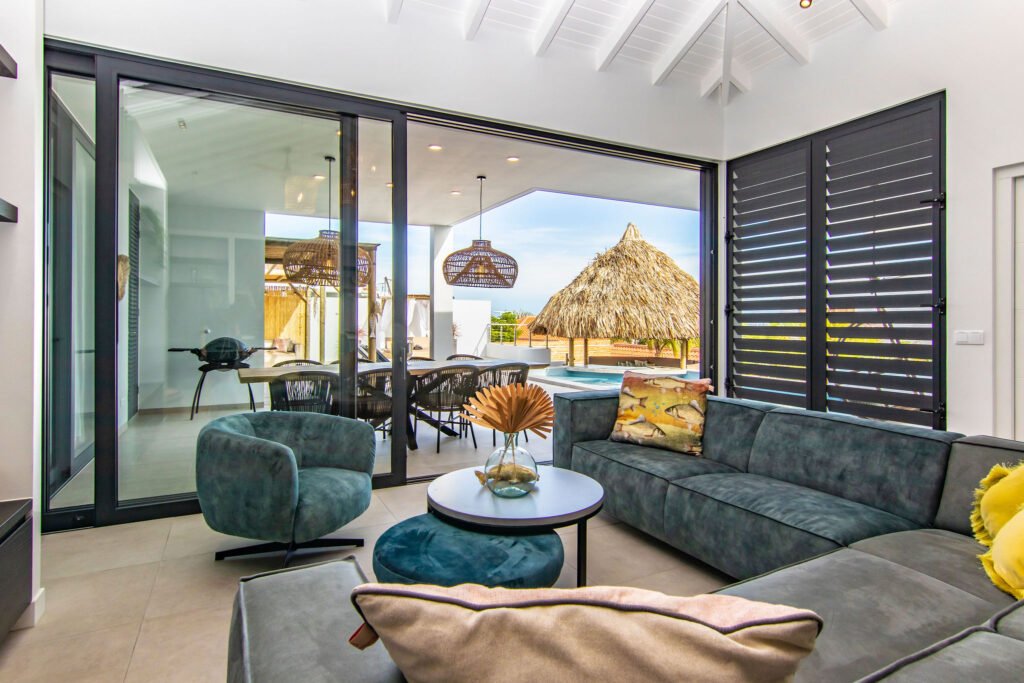 Villa Alöe has 3 comfortable living areas furnished with smart TV's, 9 air-conditioned bedrooms, 8 bathrooms, and walk-in closets. Washing machines and a tumble dryer are also available for you to use at your convenience. There is a good wifi connection throughout the villa, which includes the fitness room downstairs. Villa Alöe offers an ideal stay for families of up to 20 people.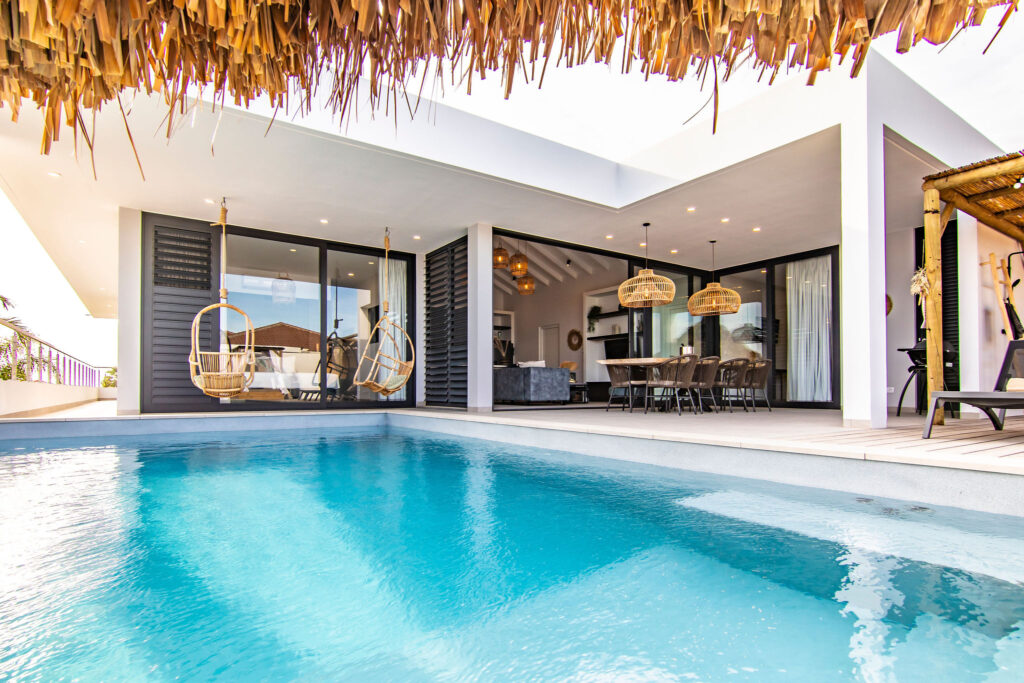 This villa has 2 swimming pools, 1 of which is an infinity magna pool; both pools are beautifully lighted at night. The smallest magna pool offers optimal relaxation thanks to the whirlpool's bubble and massage stream functionality. In addition to a whirlpool, the penthouse's larger magna pool also features a swimming area with a jetstream. You can also enjoy a drink in the water at your own palapa bar. Children can play in the shallow end of the magna pool.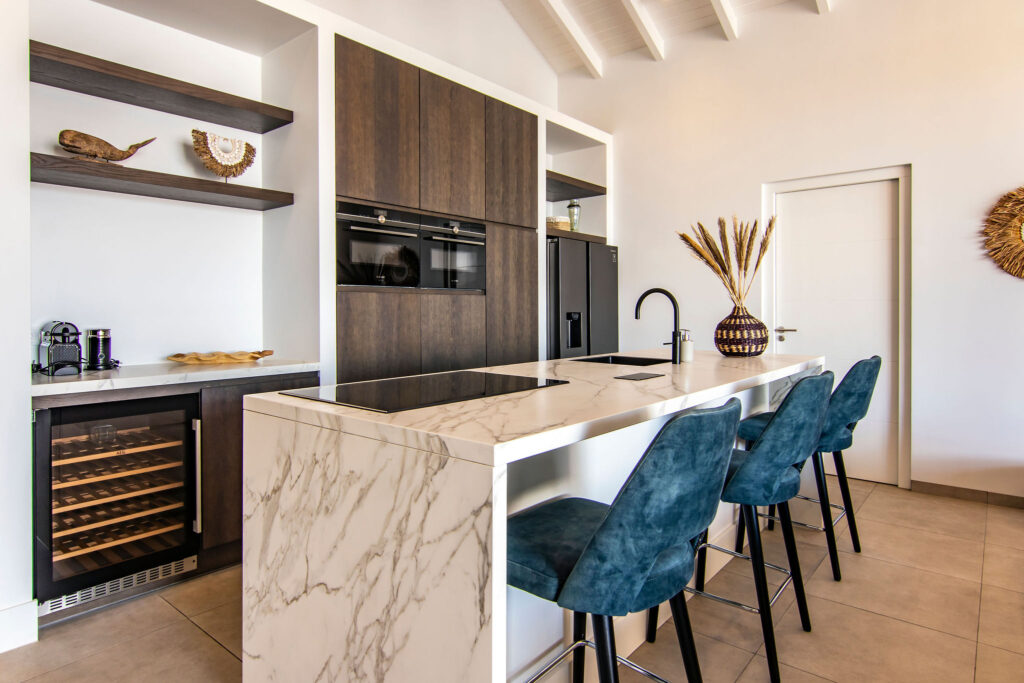 There's plenty of room to cook to your heart's content and you can choose to dine inside or outside! The villa is equipped with luxury cooking islands and comfortable bar stools, American fridges with ice dispensers, Nespresso coffee machines and combi microwaves, and the barbecue is ready to fire up outside.
or rent a part of villa aloe below
penthouse – villa aloe
You can access this fully-equipped penthouse via your own entrance. The villa boasts a magnificent view of Jan Thiel Bay, and whether you are relaxing in the whirlpool or on one of the many comfortable lounge beds or hanging chairs, you can be assured of optimal privacy.
large apartment – villa aloe
You can enjoy all the beauty that Curaçao has to offer during your stay in this stylish apartment! Not only do you have panoramic views of Jan Thiel Bay but you also have a beautiful private entrance through which you can enter the apartment. The living area downstairs is equipped with all the luxury you could wish for: a lovely living room area, a spacious dining room, a fully-equipped kitchen, 3 air-conditioned bedrooms with walk-in closets, each with an ensuite bathroom.
apartment – villa aloe
Are you looking for a conveniently located, luxurious base during your stay in Curaçao? Then, look no further! From our beautifully furnished two-bedroom apartment, you are less than five minutes away from Jan Thiel Bay. The apartment has its own separate entrance and is located on the ground floor adjacent to the tropical garden.
all facilities in villa aloe